Bergy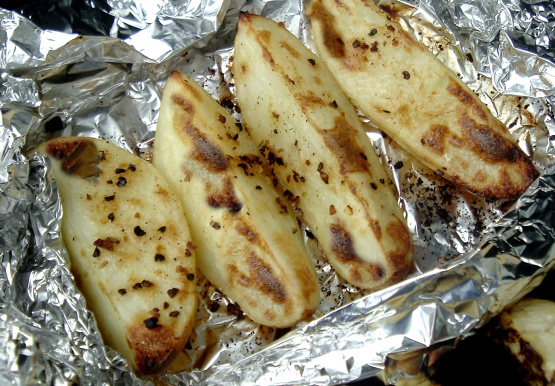 Usually we just use spices, but sometimes we go all out and put veggies in the mix. Today is one of those days.... here's a recipe you can modify to your bbq liking.

Top Review by Bergy
I was BBQing chicken kebobs and wanted a tater recipe to put on the BBQ too - This was perfect - I didn't add any peppers or mushrooms but it was still delish with the garlic, onion & Montreal steak spice. I found that they took 1/2 hour I had them on the lower temperature side of the grill. Opened them up for the last 15 minutes to let them brown. Thanks Sheri for sharing the recipe
Slice potatoes into 'chips' and place on tinfoil sheets with margarine spread on them.
Sprinkle with all 3 seasonings.
BBQ for about 15 minutes.
The optional peppers and stuff, go in between the potatoes. Cook for about 15 minutes or so. the potatoes taste good either way.