Bbq Potato With Onion & Garlic
Bergy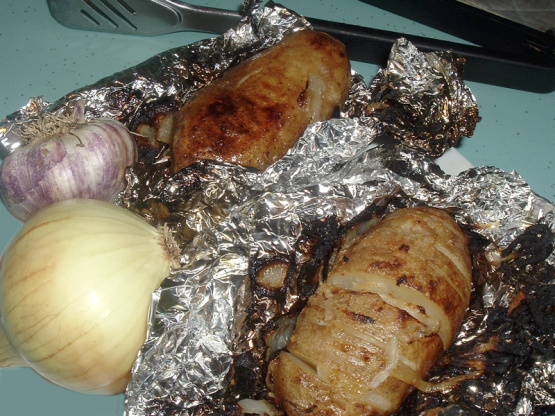 Easy recipe and comes out with a wonderful flavor. Use Baking Potatoes for this recipe. I like to put extra onions around the potatoes as it is difficult to get a lot between the cuts. The onions will char but the flavor goes right into the potatoes Serve with sour cream and bacon bits if you like

Top Review by e5i50
I LOVED this recipe! I had issues with fitting the onion slices into the cuts, so I lay the onion slices flat in 2 layers of 3 each. Since I was making Sicilian Steak (Bistecca Alla Siciliana) as the main course, I placed a slice of prosciutto between each layer instead of using bacon bits. My compliments on a great recipe!
Make 6 cuts across the potato but do not cut through.
Place a slice of onion in each slit.
Dot with butter.
Sprinkle on the garlic, salt& pepper.
wrap tightly in the foil, seal all the joins.
BBQ over medium heat for apprx 1 hour, turning occasionally, the time depends on the size of the potato.
If you choose top with the sour cream and bacon bits.