BBQ Pork Tenderloin With Bacon
Bergy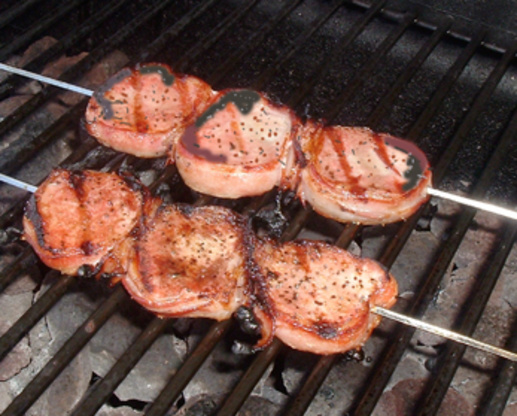 This a quick easy way to BBQ your pork tenderloin and it stretches quite far too. Use any spice mixture that you like; I love Fennel spice Fennel Spice, and have included it in this recipe. It goes well with the pork as well as lamb.

Top Review by LAURIE
OMG, I love pork tenderlions and these were sooo good! I didnt use the fennel spice, but marinaded them in a combo of soy, olive oil, garlic, slat pepper for about 2 hours, then wrapped the bacon and grilled. Wonderful, so flavorful and melted in your mouth. Thanks Bergy!
fennel, spice : (use only 2 teaspoons, store remainder)

236.59

ml fennel seed

44.37

ml coriander seeds

29.58

ml white peppercorns

44.37

ml kosher salt

Skewers

1

pork tenderloin (approximately 5 inch long and 3 inch diameter, cut into 6 medallions each approximately 3/4 inch eac)

3

slice bacon, cut in half

2

skewers, long enough to hold 3 medallions side by side approximately 9-inch if using bamboo skewers soak them
Fennel Spice:
Put the fennel seeds, coriander seeds, and peppercorns in a heavy pan over medium heat.
Watch carefully, tossing frequently so the seeds toast evenly.
When light brown and fragrant, pour the seeds onto a plate to cool. They must be cool before grinding or they will gum up the blades.
Pour the seeds into a blender and add the kosher salt.
Blend to a fine powder, shaking the blender occasionally to redistribute the seeds.
Store in a tightly sealed glass jar in a cool, dry place, or freeze.
Assembling the Skewers:
Rub both sides of the pork medallions with the spice rub.
Take a 1/2 slice of bacon and wrap it around the outer edge of each medallion.
Secure it by pushing a skewer right through the middle of the medallion; place 3 medallions on each skewer.
You should now have 3 round pieces of pork showing, the bacon from one medallion touching the next one (see picture) on each skewer.
Barbecue on High heat; flip after 4 minutes; continue cooking until browned and cooked.