BBQ Pineapple Baked Chicken
ChefLee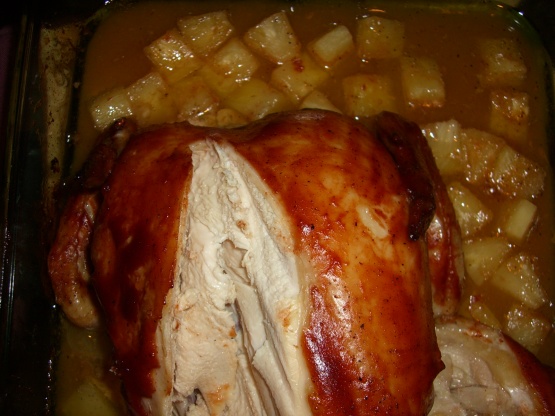 This recipe has a Polynesian touch to it. Its quick and simple to make. I made up this recipe when I was baking chicken and wanted to put a twist to it. If you like pineapple and honey BBQ sauce you will love this.
Thus was so delicious, will definitely make again. :)
Preheat oven 350 degrees.
Wash chicken.
Spray with non stick oil in a 9x13 inch baking casserole dish.
Place chickens side by side, pressing firmly to get all of chicken into dish.
Sprinkle salt and pepper lightly over both chickens.
Open can of pineapple chunks and drain off juice add juice to chicken for moisture while cooking along with 2 cups of water. Set pineapple aside for later.
Cover with foil and bake for 1 hour.
Now add BBQ sauce, spreading evenly with brush. Cook for 8-10 minutes repeat.
Add remaining BBQ sauce to top of chickens and top it off with your remaining pineapple.
Bake for 30-45 minutes. Check to see if done and if not, bake another 30-45 minutes.
This is great with stewed red skinned potatoes and baby sweet peas and strawberry short cake.