BBQ Parmesan Burgers with Pineapple
dicentra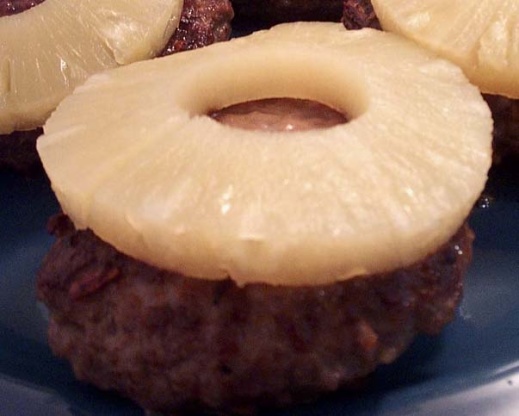 I think the quality of the bun is extremly important for a great hamburger so choose them carefully. Use what ever condiments on the burger that you LOVE. Mushrooms are great. and I always have cheese.

Thanks Bergy for another terrific recipe. Made these last night for supper. Wonderfully seasoned. I prefer freshly shredded Parmesan cheese over the kind you buy already grated that has the consistency of saw-dust. That ingredient was definitely a plus. Just an all-around great sweet/spicy burger. Turned out very juicy. Bravo!!
Mix together the hamburger,salt, pepper, parmesan, garlic, onion soup powder and soy sauce.
Shape into four patties (I sometimes only make 3) and dredge them in flour.
N.B. very important! Chill until ready to cook.
Preheat the BBQ to medium High heat, spray the grill.
BBQ the patties apprx 6 minutes each side.
During the last bit of cooking place a pineapple ring on each burger (after youhave flipped them).
Toast one side of you bun!
Get ready for OOHs& AAAAHS.