Bobtail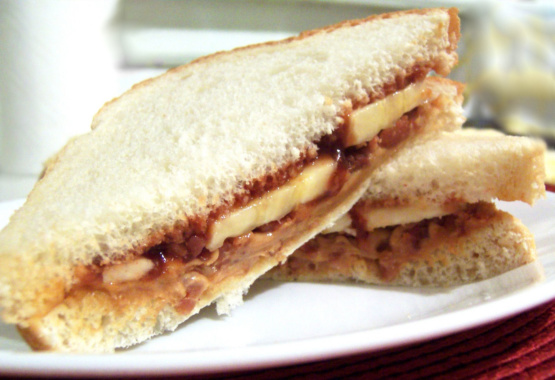 Now this sandwich really is "one for the books", but my grandson loves it!

Seriously strange but unexpectedly good! I was surprised by the burst of flavors. I could literally taste each ingredient with each bite and even though the combination may sound strange, it was a very good sandwich. You have the tang of the BBQ sauce, the sweetness of the banana, the creaminess of the peanutbutter and the smokiness of the bacon, a delightful combination. I prepared just as directed, using Uncle Yammy's BBQ sauce. This was prepared in participation with My 3 Chefs event. Thanks Happy Harry #2, I wish I had a grandson to introduce this to.
Spread peanut butter on one slice of bread.
Top with crumbled bacon followed by the sliced bananas.
Spread BBQ sauce on second slice of bread and put sauce side down to complete sandwich.
Cut in half and enjoy!