BBQ Morton Bay Bugs or Lobster Tails
Peter J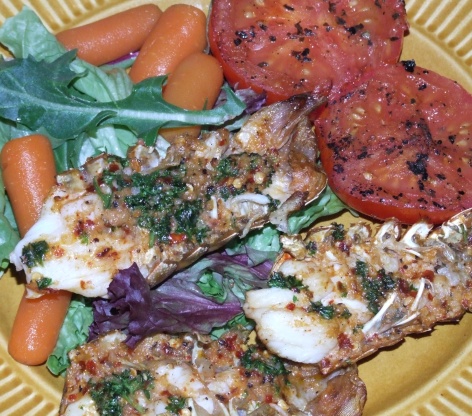 Adaptation of a BBC recipe I found. Morton Bay bugs are probably only available in Australia but small lobster tails would also be suitable (or one large lobster tail).
Blanch bugs in a small pot of water containing the teaspoon of salt for around two minutes.
Remove the tails ny tearing from the body as close as possible to the head without bringing any organs along.
Run a knife down the length of the belly of the tail and remove the thin sections to either side.
Melt butter by microwaving in a cup for 30 seconds or so.
Add parsley, chilli sauce, crushed garlic, chilli flakes and pepper and mix well.
Fill bug tails with plenty of the mixture.
Place tails shell side down over BBQ grill plate and cook around 10 minutes over medium heat.