Swirling F.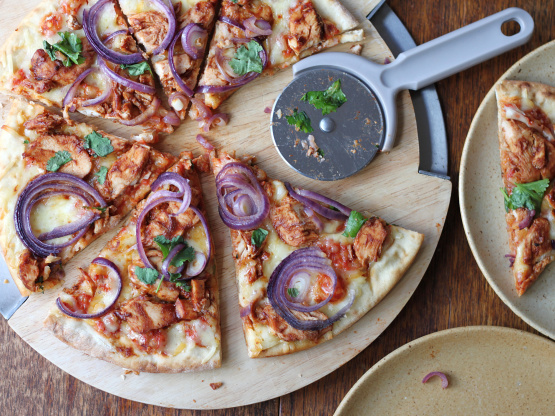 This is similar to the pizza available at the California Pizza Kitchen. It's great and really different from your traditional pizza.

Yummy! I made my BBQ chicken in the crockpot. I cooked 2 chicken breasts with 1/2 a bottle of barbecue sauce on low for 8 hrs, then shredded it with a fork. I used all mozzarella cheese instead of the mozzarella/gouda mix. I left out the cilantro (even though it sounds really good) because I didn't have any. I think the onions would have been better if I sauteed them in butter first to soften them, so I'll do that next time.
One hour before baking the pizzas, start preheating the oven at 500 degrees Coat chicken with 2 tablespoons barbecue sauce.
Set aside in the refrigerator.
Prepare dough into pizza shape.
Precook if needed.
Spread remainder of barbecue sauce over the surface of the dough.
Spread cheese over the sauce.
Spread chicken over the cheese.
Place the onion rings over the chicken pieces.
Place the pizza in the oven (on top of pizza stone if available or on pan).
Bake until crust is crispy and cheese is bubbling (8-10 minutes).
Remove pizzas from the oven and sprinkle each with 1/2 of the cilantro.