karenury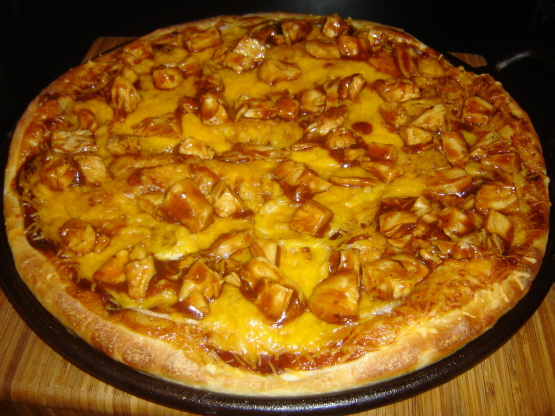 I enjoy a good pizza without it always tasting like Italian pizza...so...hope you love it! So easy!
I use the http://www.recipezaar.com/35805 EAZY PEEZY PIZZA DOUGH when making my dough. (1/2 of the dough).
While I am making the dough, I cook up a breast of chicken with onion and garlic seasoning. An onion cooked along with it would by yummy as well. You can even used a frozen breast, just pop it in the skillet with about 1/2 c water and cover.
I then take the BBQ sauce and pour it onto the dough and spread it out.
Then I chop up/ shred the chicken, whatever you prefer. Make sure to get the seasoning on the chicken if it is stuck to the bottom of the pan.
Then spread the cheese on and put the chicken on top. So yummy!
Cook for about 20 min on 400. Hope you enjoy.