PaulaG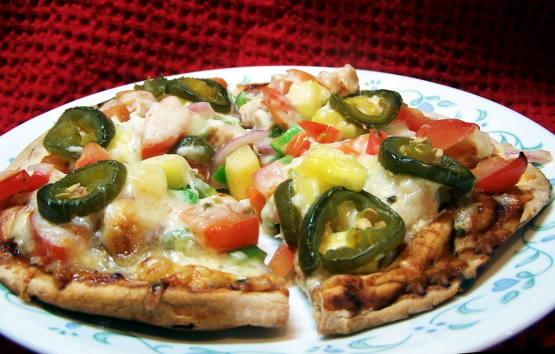 Fast and yummy pizza that is a real tummy pleaser! This recipe combines leftovers and fresh produce with a few prepackaged items to help you get a healthy and tasty meal on the table in no time. Created for RSC 10. Best of luck to all chefs!

This is good pizza. Also very quick and easy to a make. For our personal tastes the recipe calls for too much barbecue sauce on the pizza. I put 1 C on the first one and it was too much. So I put 2/3 C on the second one and that was about right. Made for Beverage Tag 2008.
Drain pineapple and slice or cut tomatoes, Drain very well in a strainer so that the juice does not make the crust soggy. I even squeeze the pineapple to get most of the juice out. A ricer works great here! BUT will smoosh the tomatoes.
Spread half of the bbq sauce on each pizza and top with chicken, thinly sliced onions, diced bell pepper, cut and drained tomatoes, and pineapple that has been drained well. (NOTE: PLEASE drain as much juice as you can so that your crust does not get soggy).
Mix cheeses together and top each pizza equally. Place the jalapeño slices on top.
Bake at 350 degrees for 10-15 minutes or until cheese bubbles and begins to brown.
Allow pizza to rest for a few minutes, then slice and serve!