Bergy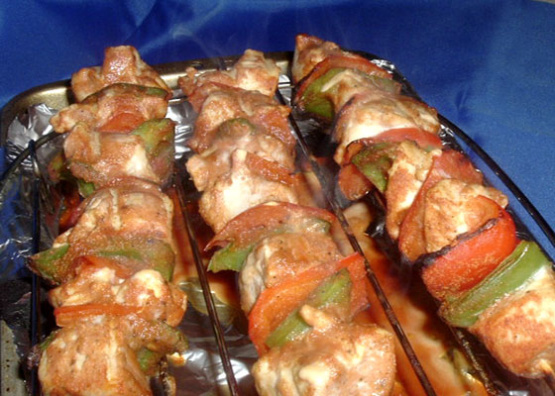 Nice blend of flavors with the curry & tomato juice. I like to put some mushrooms and maybe a cherry tomato or two on the skewers.

We had this last night and it was very easy and very good. Thanks for this recipe Bergy. ML
Thread chicken alternating with a square of red & then green pepper on 4 skewers.
Mix all the remaining ingredients, mix well.
Place skewered kebabs in a shallow dish and pour the marinade over the kebabs Cover, place in fridge for at least 2 hours, turn occasionally so all sides are well coated. Grill kebabs over medium heat about 6" from heat source, turn so they do not overcook on any side, approximately 15 minutes or until the chicken is done- overcooking will produce dry chicken so watch them.