BBQ Chicken French Bread Pizza
Pamela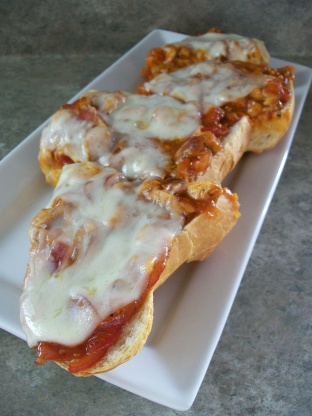 Tangy homemade sauce and smoky provolone cheese make a tasty treat for lunch or snack.

Other than cutting the Dijon mustard in half , made the recipe as posted. I agree that the maple syrup added quite a bit of taste here. Great recipe. Made for you win in Football Pool.
Melt margarine over medium heat. Separate onion slices into rings and sauté until softened. Stir in brown sugar and heat and stir until onions are glazed.
Add catsup, water, mustard, and lemon juice. Let simmer for 20 minutes, then stir in diced chicken.
Cover and set aside.
Heat oven to 350°.
Cut French bread in half lengthwise and place cut side up on foil lined baking sheet.
Divide barbecued chicken evenly on bread halves, spreading to edges.
Place 4 slices provolone evenly on each half.
Bake for 10 minutes at 350° until cheese is melted. Remove from oven and let rest for 5 minutes on wire cooling rack.
Cut each half into 4 slices and serve.