BBQ Chicken and Blue Cheese Pizza
Prep 10 mins
Cook 10 mins

Pizza with bbq sauce,chicken, onion, other veggies, and blue cheese.
Directions
Preheat oven to 500 degrees.
Place pizza crust on a baking sheet.
Spread sauce over the crust, leaving a 1/2 inch border.
Top with chicken amd remaining ingredients.
Bake 10 minutes or until cheese melts, and crust is crisp.
Cut into 12 wedges.
Reviews
Most Helpful
This was a really nice change of pace for pizza night! I preheated my pizza stone at 450 degrees and baked the pizza at the same temperture, which still only took about 12 minutes. I also used all the ingredients as posted, but didn't measure them, just went by eye. At the very end, I threw some shredded cheddar on top, which worked out really well. I will definitely be making this again. Thanks for sharing.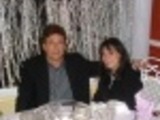 I found this recipe in Cooking Lite. I was looking for a way to use some leftover bbq ribs and had blue cheese on hand... This turned out soooo good! Way better than I anticipated. Easy to make, gourmet, healthy, and very pretty dish. I served it with Cooking Lite's squash and corn chowder.