Ms B.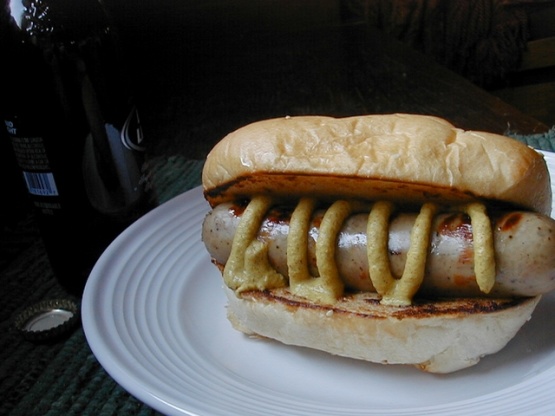 I made this recipe last night for the first time and they are good! This is great if you are having a gang in and want a "do it yourself" style dinner (whatever) have baked beans on the side.

Enjoyed the flavor that the spices gave the brats after they simmered. This is the first time I'd BBQ my brats after cooking them and it will not be the last. Served the sauce along side the brats after taking out the cloves and peppercorns. This was my brat festival weekend. I fixed two other different recipes besides Bergy's, mine #22939 and secret's # 18213.
Put the brats, onions, peppercorns, cloves, garlic in a saucepan, pour in the beer.
Bring to a boil and simmer the brats 15 minutes.
Drain (you can do this early in the day and then just have the BBQ step to do before serving).
BBQ the brats about 10 minutes.
Spray with water while BBQing to form a crisp skin.
Serve on the roll with mustard and hot peppers or other relish or serve them as your meat for dinner.