flower7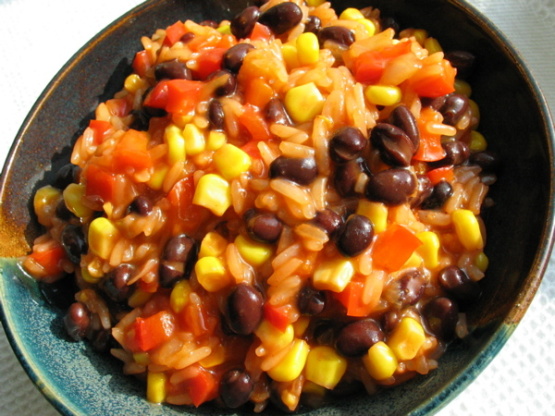 One of my favorite recipes from 1,001 Vegetarian Recipes. Also one of the first recipes I tried to cook when I first became a vegetarian. Sounds funny, tastes great! Even my carnivorous roommate from college loved this one.

very good and easy to make. I used frozen fire roasted corn, black rice and purple onion substitutes in the recipe cause that is what i had on hand and it was still fantastic. I am always looking for flexible sides dish recipes so i can change them up and make them more often without getting tired of them. Now that i know this basic recipe can hold it's own i may try something different next time such as red bell peppers and green onions ;)
Heat oil over medium heat
Add onions and bell peppers and cook until softened.
Stir in the water and bring it to a boil.
Stir in the rice and return to boil.
Cover and simmer for 20 minutes or until rice is tender.
Stir in the corn beans and BBQ sauce and heat through.
Enjoy!