karen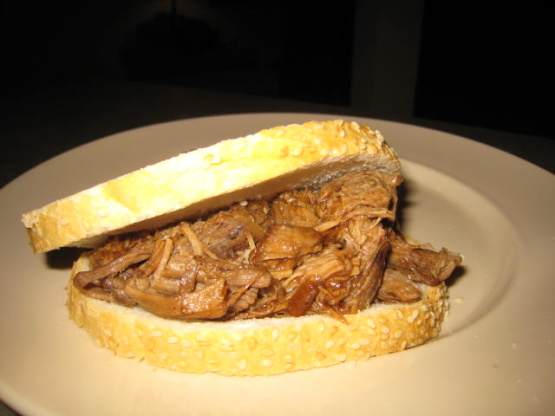 I got this recipe from a coworker, Julie B, and served it for a big family dinner. It's great for a large crowd. I served it with dollar rolls so people could make sandwiches, and would allow 3-4 people per pound of meat. I actually like it better without the gingersnap cookies. You actually make this in the oven, and then use the crock pot for serving. It also frees up your oven for those tasty side dishes!

Top Review by Debber
Ah lads & lassies, this ware a right delicious recipe! [must be read with an Irish lilt!] Being a bit shy on the soup packet, I merely used some dried minced onion and a sprinkle of garlic powder as a substitute. Home-made barbecue sauce mixed with some leftover cran-raspberry sauce really hit the spot, too. Silver dollar rolls (missing the pot o' gold only a wee bit) with a dab o' mayonnaise were the perfect vehicle to convey the brisket too! Sure & begorra, tis a lucky day for my wee bairns when we hit on this one! Certain I am that we hit the veritable JACK POT for tis a KEEPER.
4

lbs beef brisket, trimmed (3-5 lb brisket can be used)
1 1⁄4 ounces Lipton Onion Soup Mix (1-2 packets)

18

ounces barbecue sauce (I use Kraft Original BBQ, use your favorite)

1

(15 ounce) can cranberry sauce, jellied

12

gingersnap cookies (optional)
Preheat oven to 250°.
Line roasting pan with enough aluminum foil to fully cover brisket (make sure the ends also have enough foil to keep the juices in the foil).
Lay the brisket flat in the pan with the fat side up.
Cover with soup mix.
Combine cranberry sauce and bbq sauce until blended and pour over brisket.
If using gingerbread cookies, pulverize in a food processor and spread over brisket.
Seal brisket inside foil, tenting the top up slightly.
Cook for 6-8 hours (can be done overnight). When fork slides into meat easily it is done.
Pour sauce into a container and serve as gravy on the side. Let the brisket cool until warm.
Shred with fork and place meat in a crock pot. One hour before serving, add 2 cups water and 1 cup sauce and turn crock pot to low heat.