PanNan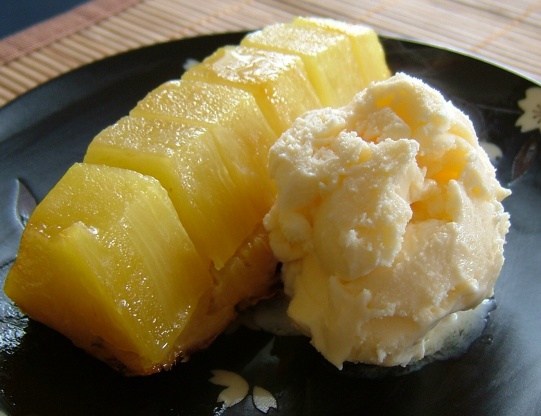 Absolutely sumptuous!!! Bake along with the veggies and meats. (or try it in the oven) from Canadian Living mag.

This is a very nice way to prepare pineapple, (my favorite fruit). I did this in the oven, added a T of brown sugar to the maple syrup to get a little thicker sauce. I then served it with scoops of french vanilla ice cream. Very good! Thanks for a great recipe!
Cut off crown from pineapple and discard.
Without peeling, cut pineapple lengthwise into 6 wedges.
Remove core from each piece.
With serrated knife, loosen pineapple from outer rind, cut fruit almost through crosswise into wedges but do not remove rind.
Place each wedge on 12 inch square double sheet of foil.
Drizzle with maple syrup, sprinkle with rum (if using) and dot with butter.
Fold up foil, sealing loosely to leave room for steam.
Cover and bake on grill over medium hot coals or on medium setting for 30 to 40 minutes or until very hot and bubbly.
Serve hot, topped with whipped cream or ice cream.