BBQ Bacon Wrapped Mushrooms
lazyme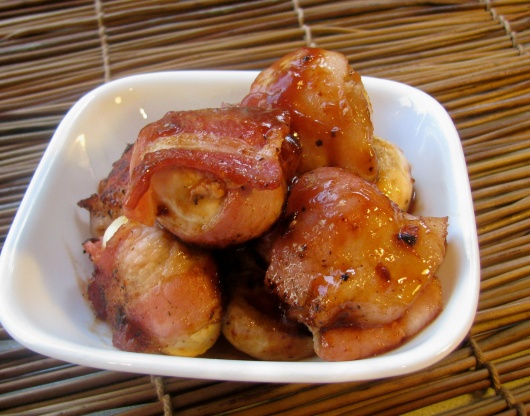 An easy three-ingredient appetizer, but it's oh-so-good! I never seem to be able to stop eating them. The recipe states you don't have to use toothpicks, but I can only seem to keep about half together once I start flipping them, so use them if you have trouble. Credit goes to Adrien Sharp, a finalist from season 3 of the Food Network's "The Next Food Network Star".
Cut the stems off the mushrooms. Rinse briefly and dry them well with paper towels.
Wrap each mushroom with the bacon strip halves (use two if the cap is not completely covered). The bacon will stick to the mushrooms so there is no need for toothpicks.
In a medium saute pan over medium-high heat, saute the bacon wrapped mushrooms until the bacon is golden brown. Just as the bacon begins to crisp up a bit, add the BBQ sauce and toss until coated. Serve immediately.