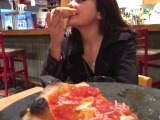 This is the ultimate Creole sauce which will take you some time to prepare. It's not the instant variety. But your results will make you very happy. Use shrimp or chicken, or crawfish. This is happy food! Serve over hot, white rice and if you have a heavy hand with the Tabasco, serve with ice cold Abita Amber beer. The leftover sauce can be mixed the next day with some smoked sausage, diced chicken, and the leftover rice for a great jambalaya. Just mix all that together and pop in the oven for 30 minutes.
Directions
In a large pot, heat the bacon grease and slowly add the flour, (whisking constantly so it does not burn) until the roux becomes golden brown, about 15 minutes.
Add onion, bell pepper, and celery and stir until tender, about 20 minutes.
Pour in the tomato sauce, tomatoes, and liquid from the tomatoes.
Add the garlic, Tabasco, worcestershire, sugar, salt and pepper.
Simmer 30 minutes, stirring occasionally.
Add the wine and reduce by half, another 15 minutes.
Add stock, 1/2 cup at a time, at about 15-20 minute intervals, reducing and stirring, let the vegetables really cook down.
Taste all along the way, re-season according to your tastes.
I like to cook this sauce down about 2 hours and then add the shrimp but you can add the shrimp anytime after the first hour.
As soon as the shrimp are pink, about 10 minutes, remove the pot from the heat.
Add the green onions, and parsley and serve over rice.
Most Helpful
Love this Recipe, My wife who is a heath nut says "its to good to be healthy" i didn't tell her about the bacon grease. We love it. tnx
This is an excellent recpie. I use more garlic, more black pepper and a little white pepper. Good shrimp stock for this is just a must as with many other cajun dishes. I firmely believe that good shrimp stock is the real basis for most of good creole seafood dishes, whether cooked to volume or reduced.

This is a wonderful shrimp creole recipe full of flavor. I will be taking some photos after my husband comes home from work but I've been tasting this dish along the way, and oh my, it is pure New Orleans memory for me. I was baking my own pizza yesterday and sent my husband out to get some salame for the pizza. I should have gone with him, but thought surely he will find it. Wrong, he came home with fresh Jimmy Dean sausage log - he is wonderful in many areas, but when it comes to food, well...... Needless to say, I have lots of fresh sausage and decided to use 4 sauteed slices to this dish as well. I used my hand to cut small pieces about the size of small meatball and added to the sauce. Very yummy. Thank you for posting this wonderful recipe. This should also be good with fish and you are right, it should be good over scrambled eggs.