Bayonne Lamb (Collier De Mouton a La Bayonne)
Acerast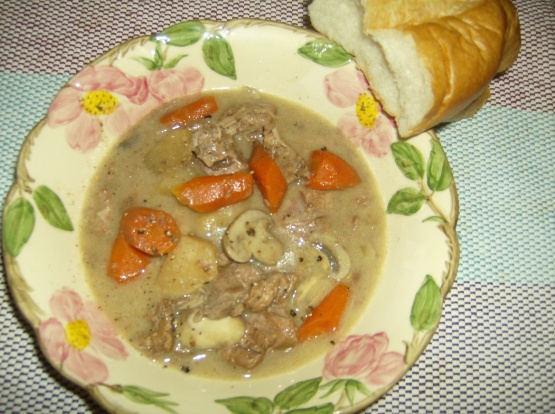 An amazing lamb stew! Rich and hearty, one plate is just not enough! Have lots of crusty bread to sop up the sauce. :) Recipe taken from Popular French Cookbook by Mary Berry - 1972 edition

Cinq étoiles! DH and I savoured every bite of this rich stew. It worked well to lay the table, and prepare the bread and salad while the stew siimmered because the end steps, while not difficult, were the most involved - very "French" in technique. I could not find baby turnips so I purchased the smallest I could find, peeled and cubed them. They added wonderful flavor. Thanks K9 Owned for a truly lovely meal. Made for ZWT5.
Put the lamb in a pot with the onions, carrots, bay leaf, lemon juice, salt, pepper and water.
Bring to a boil, reduce heat, cover and simmer for 1 1/2 hours or until tender.
20 minutes before the end add the mushrooms.
Arrange lamb and vegetables in a serving dish and keep hot.
Reduce the cooking liquid to 2 1/2 cups by boiling rapidly.
Make a roux with the butter and flour, add the reduced cooking liquid and simmer for another 5 minutes. Correct the seasonings.
Blend together the egg and cream and add a little of the sauce to temper it.
Add the egg/cream mixture to the sauce and return to the pan. Reheat but do not boil.
Pour sauce over meat and vegetables.