Bawang Goreng(Fried Shallots)
Bobtail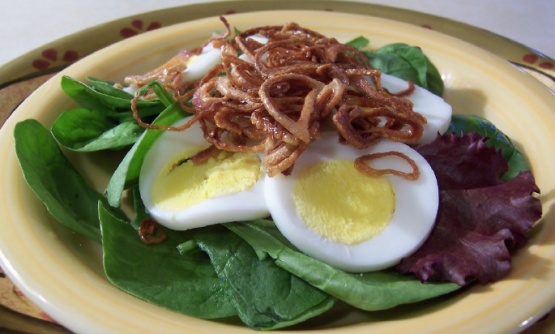 These crispy shallots make a great topping for steaks, salads, and soups and are used throughout Indonesia! Use the leftover frying oil for vinaigrettes and for sauteing anything savory. Adapted from Saveur magazine.

These are quite easy to prepare, even using a knife, of course a mandoline would have been very nice to use! I was a bit disappointed in the flavor of the shallots, they were a little bitter, but this could have been the shallots. I did use vegetable oil and they cooked very nicely! DH and I had these on a salad tonight and they were good on the salad. Thanks Sharon123!
Peel and slice the shallots as thinly as possible, using a mandoline or a very sharp knife.
Spread the sliced shallots out in a thin layer on a large sheet tray, overlapping as little as possible(so they won't clump when fried).
Pour peanut oil into a small heavy saucepan to a depth of 1". Heat over medium hight heat until a deep fry thermometer registers 325*F. Working in 5-6 small batches, add shallots to oil and fry, stirring constantly, until light golden brown, about 1 1/2 minutes. To get them perfectly golden, remove them from the oil a few seconds before they actually appear done. Remove shallots from oil with a slotted spoon and drain on paper towel lined plate(they'll darken slightly as they sit). Let cool.
To store, refrigerate in an airtight container for up to 1 week.
Makes about 2 cups.