Bavarian Salad (Broccoli Salad Mold)
Chipfo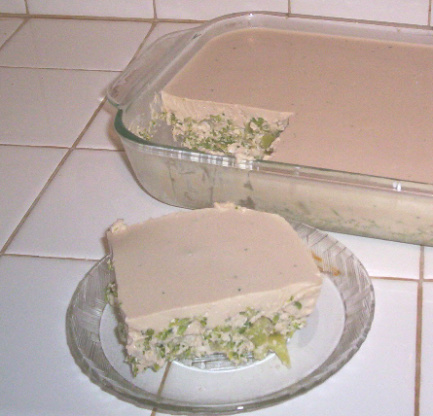 My Grandmother used to make this dish for Thanksgiving, she simply called it Bavarian Salad but it is a type of broccoli mold. It took several attempts to copy it but I finally have it exactly like hers. It is a simple recipe and one of those dishes either you love it or you don't. Those who like it will gobble it down, ones who don't like it probably won't eat it.
1

(10 1/2 ounce) can beef consomme

1

(10 ounce) package frozen chopped broccoli
3⁄4 cup mayonnaise

1

(1/4 ounce) packetof knox original unflavored gelatin
1⁄4 cup water
Cook broccoli according to package, drain and set aside to cool.
Sprinkle gelatin over 1/4 cup of cold water, set aside.
Bring consommé just to a boil, remove from heat and pour gelatin in stirring for 3 or 4 minutes to dissolve, allow to cool to warm.
Whisk mayonnaise into the consommé until smooth.
Add broccoli, stir and pour into a small mold or 9x9-inch pan and chill in the refrigerator until set up, at least 3 hours.