loof751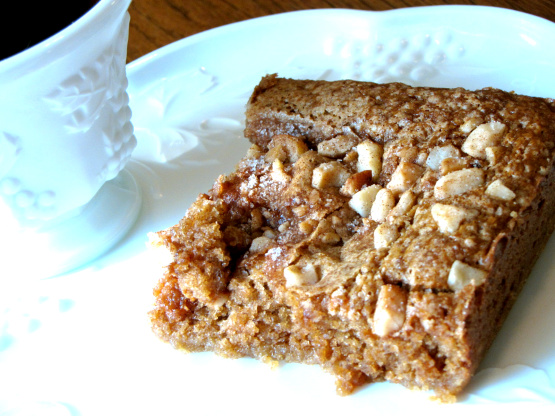 An old recipe. It has crust layer then topping and looks interesting. Three different layers, sort of.

Top Review by WiGal
Yummy Kuchen! Yummy cake! Mine seems to be a bit lighter colored but that is b/c I used light brown sugar. I did as cookiedog (another Unruly) did made a half cake but kept ALL the cinnamon at amount listed here-the more cinnamon the better. Easy to make and unique making it special. DB, while eating I visualized our wonderful Black Forest hike with our team. Mia in Germany is so lucky! Thank you for posting. Made for an Unruly by an Unruly during ZWT6.
Mix crust ingredients like pie crust.
Put 1/2 in bottom in greased 9x13 pan and put down with spoon but not to tightly.
To the other 1/2 of crust mixture add the filling mixture.
Pour over crust mixture.
Sprinkle with the sprinkle mixture that you have mixed together.
Bake at 350 for 25 minutes or until done.