Bavarian Cheese Dip (Obatzda), Gluten Free
pammyowl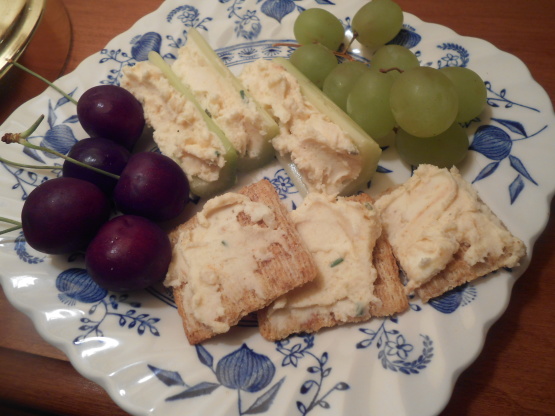 Mostly this famous Bavarian cheese dip is made with beer. There is gluten free beer, but considering how expensiv it is, I wouldn't waste it for cheese dips... When I visited my friends near Munich lately, they told me that they actually make obatzda without beer. So this is it :-) If you want to keep the dip for some days, omit the shallot and serve with thinly sliced onion instead. Cooking time is refrigeration time.

Delicious, creamy and easy-to-make. Every Friday, I take a dip to share at drinks after work. This was certainly a crowd-pleaser, and perfect served with celery and carrot sticks. I made a few little changes -- I used 2 ounces of shallot, and added three cloves of garlic and a teaspoon of caraway seed. Made and enjoyed for ZWT6.
Finely mince shallot and garlic clove.
roughly chop the camembert or brie.
place minced shallot and garlic with the other ingredients in a food processor and process on medium until everything is blended together to a smooth cream with some small lumps.
chill for some hours.
serve cold with crackers or raw veggies.