ihvhope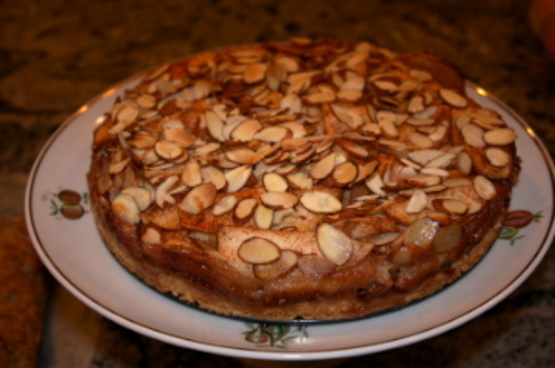 This dessert looks great and tastes even better! I found the recipe in a cookbook called "Fare for Friends". It's easy to make and looks impressive.

Top Review by Jan H.
This is the very same recipe I've used for years (from the Vancouver Sun). The only exception is that my recipe doesn't have the raspberry jam in it. It's excellent without it, but I'm going to make it with the jam next time as I think that would be a nice touch. So, it will be good with or without raspberry jam.
Preheat oven to 450.
Cream butter, sugar and vanilla.
Blend in flour.
Press into 9" springform pan and spread with jam.
Combine cream cheese and sugar.
Add egg and vanilla.
Mix well.
Pour over jam.
Topping: Toss apples with sugar and cinnamon and spoon over cheese.
Sprinkle almonds on top.
Bake at 450 for 10 minutes; then 400 for 25 minutes.
Cool.