Baursaki (Kazakhstan Fried Bread)
teresas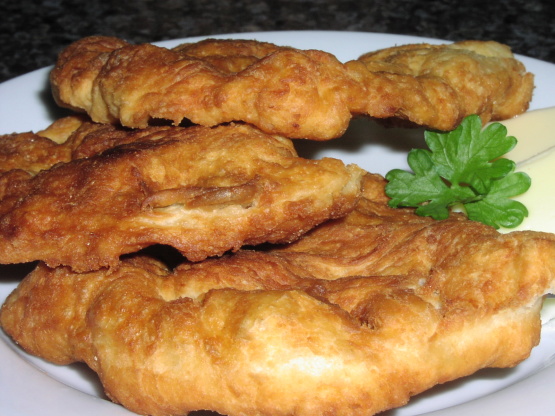 This bread is traditionally strewn over the table. From the Junior Worldmark Encyclopedia of Foods and Recipes of the World. Times and servings are estimated.

I'm giving this 4 stars only for the flavor...there wasn't any...but the ease of preparing and cooking was wonderful...I've made a very similar fried bread but without some of the ingredients...the first thing hubby said was..."this isn't your normal recipe"...we both felt it was heavy...I served it with butter...he enjoyed it with honey...
Combine all ingredients (except oil) in a large mixing bowl , mixing to form a dough.
Knead the dough on a floured surface, then return to mixing bowl. Cover with a towel and let sit for 30 minutes.
Heat oil in deep skillet over high heat.
Pull off tablespoon-size pieces of the dough and roll into a ball. Press down slightly, then drop carefully into oil and fry until golden brown.
Drain on paper towels.