JackieOhNo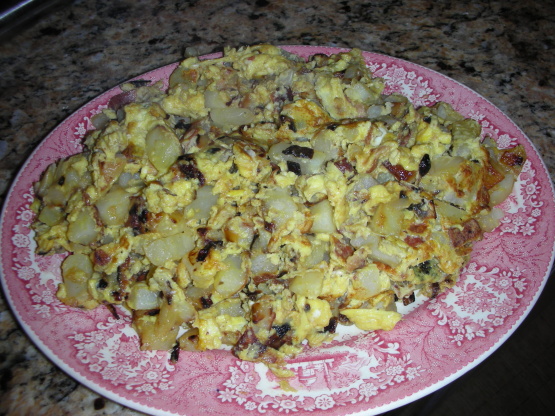 A German "Farmer's Breakfast" that I found on the web in my search for ZWT recipes.

Oh, this is right on, especially for a farmer! I halved this, and used baby red potatoes sliced in half (just picked from the garden!) and this was heaven on a plate! Made for ZWT 6 2010
Fry the bacon until crisp. Remove and drain on paper towel. Remove bacon fat from pan, add the butter and saute the chopped onion until soft.
Add the potatoes and brown lightly.
Beat the eggs lightly and add the salt, pepper, milk and finally the bacon (chopped).
Pour the egg mixture over the onions and potatoes and stir occasionally until cooked.