Bauernfrühstück-Farmers Breakfast Omelet
Leslie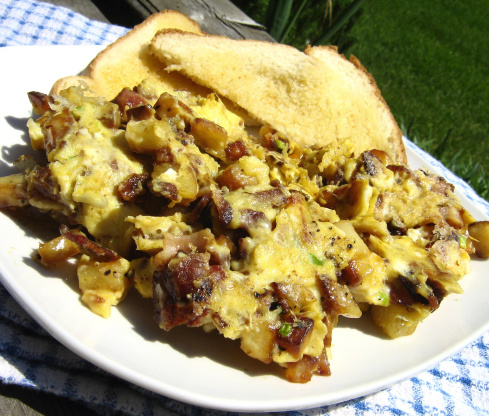 Posting this for World Tour 2006; this is a great light dinner for 2 or three people and it of course is a wonderful breakfast. Not for the diet conscious by any means :-P

Sooo Yummy!! I kind of combined this recipe with a Paula Deen Egg recipe I found. I used some frozen diced potatoes with peppers and some crumbled bacon. To the eggs I added a dash of milk and dallop of sour cream. (I was supposed to add cheese once they cooked, but I forgot.) Even though I whisked the sour cream into the eggs, it still held together (kind of) and I could taste little bits of sour cream which was really good with the potatoes. One of my favorite parts was the lack of dishes I had to do when we were done!! I just wish I had made more, because there were no leftovers.
In a frying pan, fry the bacon until crisp; remove and drain on paper towel.
Drain most of the bacon fat from the frying pan, add the butter and saute' the onion until soft.
Add the potatoes and brown lightly.
Beat the eggs lightly and add the salt, pepper and milk, and finally the chopped bacon.
Pour the egg mixture over the onions and potatoes and stir occasionally until cooked.