Battered Chicken Tapas With Honey and Mustard ( Pollo Rebozado)
Satyne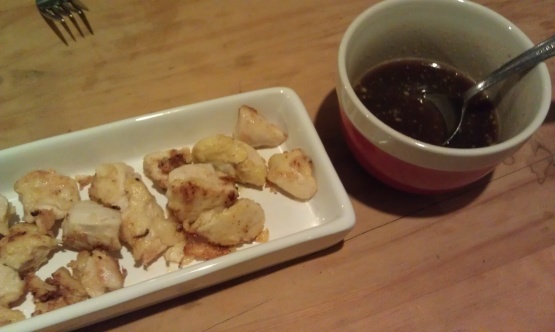 A real favorite here in Spain. Looks great, smells great and most of all tastes great! The chicken can be prepared ahead of time and then crisped up in the oven before adding the sauce. The honey mustard sauce should be made an hour or so in advance to blend flavors. This recipe was adapted from "the tapas cookbook".

Great recipe. Increased the dijon by half a tablespoon after taste testing the sauce. Will be making this recipe again and again. Thanks for the keeper.
Place chicken pieces in a bowl.
Crack the eggs over the chicken and mix thoroughly with your hands.
Add flour to the chicken mixture to thoroughly coat the chicken.
The final consistency should be very wet, but not dripping.
Heat the oil in a large frying pan, add the chicken and fry the chicken until golden on all sides.
Remove from heat and salt and pepper to taste.
Mix the honey, mustard and soy sauce in a small bowl about an hour ahead to blend flavors.
Drizzle the honey mixture over the chicken right before serving.