Batter Dipped Deep Fried Cauliflower
Parsley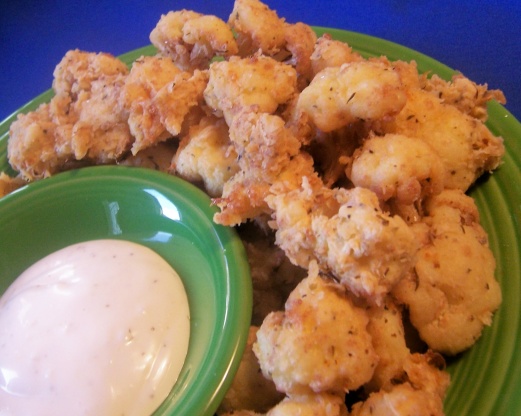 Great appetizer or snack. The breading is not to heavy. The only time I've seen guys eat cauliflower during a football game is when it's this recipe.

Sooooo good! The only reason I didn't give it 5 stars was that the temp seemed a bit too high for the cook time, when we do this again (which will be very soon) we'll try 350 and make sure to use bigger pieces. Some of mine were too small and the cauliflower pretty much disappeared (which made for little pieces of very tasty deep fried batter, danger :) . Thanks for sharing a perfect combination of flavors and for getting my 5 year old to eat cauliflower!
Preheat fryer oil to 375.
Place the beaten eggs, milk and salt in a shallow bowl (or a large baggie).
In a seperate shallow bowl (or another large baggie), mix together flour, cheese, garlic powder, thyme, oregano, paprika, cayenne, and pepper.
Place flowerets into egg mixture and toss (or shake baggie) to coat well.
Remove and plce into flour mixture and toss (or shake baggie) to coat well.
Fry in batches for 4 - 6 minutes or until golden brown.
Drain on paper towels and lightly salt.
*Serve w/ dipping sauces such as marinara, ranch or blue cheese.