Batter-Dipped Crunchy Fried Chicken
2Bleu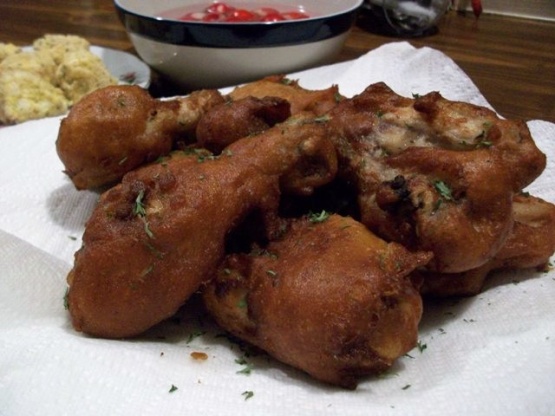 "365 Ways to Cook Chicken" and this is just one of them. Poaching cuts down on frying time later. I like to buy family packs of drumsticks and have them on hand over the weekend-makes for great snacking!

I really enjoyed this recipe. Family liked it and it was easy to make. A keeper!
Place chicken pieces in a large saucepan or flameproof casserole. Add 2 cups water, bay leaves, cloves, garlic, and celery seed. Cover and bring to a boil. Reduce heat and simmer 45 minutes, until chicken is tender. Remove chicken from stock. Strain and reserve 1 1/3 cups of the stock. Refrigerate chicken for 15-20 minutes. Meanwhile, in a large saucepan or deep-fat fryer, heat all but 2 tablespoons vegetable oil over medium heat.
In a large bowl, combine pancake mix, paprika, salt, pepper, 2 tablespoons vegetable oil, eggs, and reserved chicken stock. Generously coat each piece of chicken with batter.
Fry chicken in batches without crowding 7-10 minutes, turning once, until golden brown and crisp. Remove and drain on paper towels.