Batido De Mango (Mango Shake)
Mme M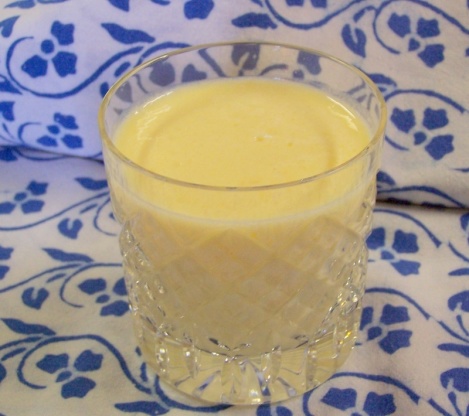 Many years ago, when I was a kid in New York, we used to get these at Victor's Cuban restaurant. Years later, Victor's had become an elegant restaurant--no more batidos from the window for kids who arrived on roller skates. Nothing could be simpler or more refreshing on a hot day. All these years later, I still think they're better sucked through a straw. For those watching calories, use skim milk.

Thank you for posting this! My two year old and I adore it! He calls them "brrs" and requests them often. I make it with frozen mango chunks blended in my food processor and hemp milk (because of allergies). SO good. I like it best if you give it a bit of time in the freezer before eating, but I can't always wait :)
In a blender, combine ingredients.
Blend on high until smooth and frothy.