Batata Vada (Potato Balls in a Gram Flour Crust)
niecyg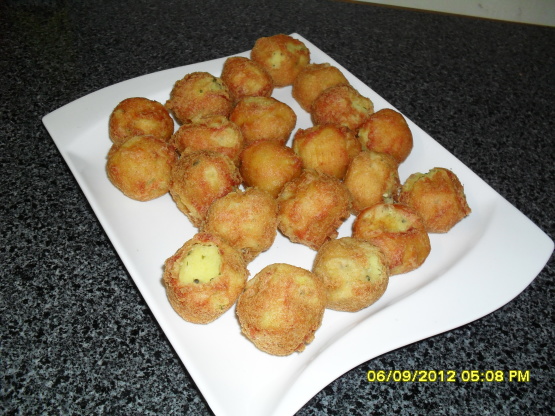 Its a common recipe in India, a family favourite

This is a SUPERB recipe and I am surprised why no one has tried it till date. Anyways, that really gives me the honor to be the first one to post my feedback. I made these for snacks this evening and my oh my, was my home a heaven for all who came by today. Everyone really gobbled these down like there was no tomorrow. You should have been here to see it :) I followed the recipe as given. The only additional ingredient I used was 1 1/2 tsps. of fresh mint leaves, chopped fine in the mixture of potatoes. This is a sure keeper and I am making note of this because come winter every year, this will be a regular on our table for family and friends :) So many thank you's to you for sharing this on Zaar.
Boil the potatoes mash them.
add the ginger garlic, tumeric powder and cilantro and salt.
Heat 3 tsp on oil in a saucepan.
add the mustard seeds and wait for them to crackle (burst) then add the asefetida.
Pour the oil over the potatoes.
and mix it in well till blended.
Mix all the ingredients with the water.
divide the potato mix into 16 balls.
Heat the oil.
Dip the potatoes into the batter.
The batter should be thick enough to coat the potatoes nicely but not too thick.
Place the coated potatoes balls in the hot oil.
Fry till done (the coating will be a golden color with a reddish tinge).
Enjoy.