CandyTX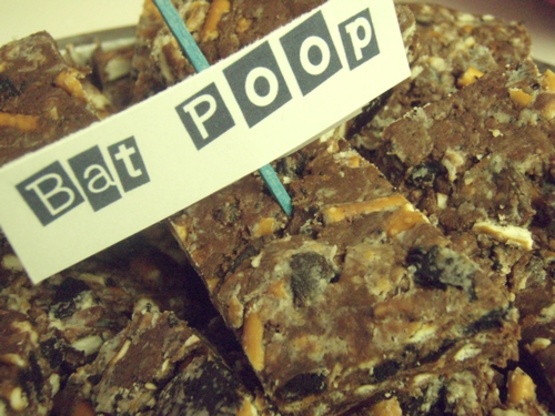 Tom came up with this for our son's Halloween-themed birthday party. It was beyond nasty looking, but everyone loved it and took some home to show their parents. A hit!

I tried this the first time and it just didn't seem right, then I read a review on here saying don't mix the marshmallows with the chocolate when melting. The magic formula!! I tried it a second time and just melted the chocolate and poured over the dry ingredients and marshmallows. DELICIOUS!! This tastes SOOOO good - you have to try it. I actually saved the first batch that went wrong. It was just a load of crumbles, but would be good as a topping on dessert or ice cream and it still tasted pretty good, so I bagged it and froze it to use at a later date. Enjoy!
Mash Pretzels till they are mostly crushed, but with some sticks left. You will want to use those small stick kind.
Mix in raisins.
In a double boiler, melt White chocolate, chocolate chips, and mini-marshmallows.
Rapidly mix chocolate mixture into pretzel/raisin mix.
For realism: Shape into little mounds on parchment paper and allow to cool.
For speed (and for those with weaker stomaches): Spread evenly on parchment paper and allow to cool.