lazyme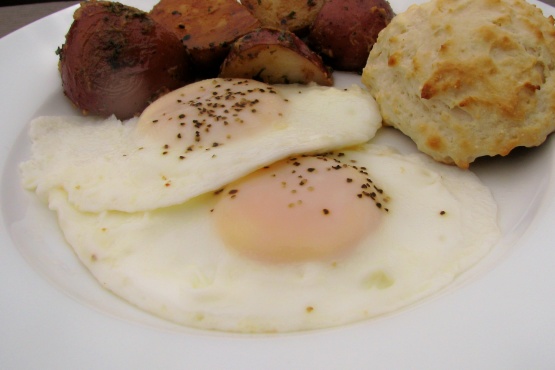 Rudy loves these eggs basted hard. They are a cross between poached and fried. You can cook them to your preference; I like basted soft myself, served with toast. You need a fry pan with a lid, glass is best, so you can watch for doneness.

OK, but... I heat bacon fat, add eggs before fat splatters but whites will set, then baste eggs in bacon fat, spooning the hot fat over the eggs until they reach desired doneness (About over easy). Well-done eggs are of course boiled and made into egg salad.
Heat butter until melted; add eggs.
Fry until white is starting to set.
Salt and pepper to taste.
Add water and cover immediately; some people add less water but I like a little more. The steam will cook the top of eggs; it takes just a minute or so, depending on how well done you like your eggs. Hard will be just like hard boiled eggs, that yellow color.
I serve these with toast and fried potatoes, just like over easy eggs.