gailanng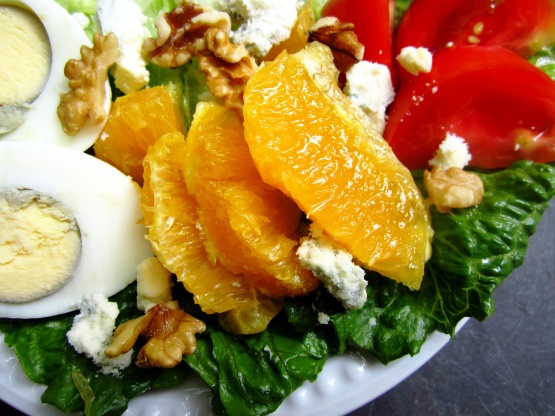 This probably is an interpretation of a Basque salad and not traditional-who knows? Normally I would use a 'bleu de Basque' cheese but the store was out of stock and I substituted Oregon made 'Smoky Bleu' cheese from Rogue Creamery. From taproduce.com via Pierre Bain at Fandango Restaurant. Dressing is from taproduce.com by way of Allrecipes.

Oh My Goodness, I love this dressing. Think I'll be carrying it around in a flask for ready use at any time or place. The decreased sugar was a wonderful idea, I wouldn't really want it any sweeter for my taste. My single swap was to use feta for the blue cheese as I don't normally keep it on hand but I do have "Greek" oregano and a couple of blood oranges currently. How fortuitous! I made 1/2 the recipe amount and I'm already looking to finishing it tonight for dinner (the first 1/2 was today's lunch).
In a jar with a tight fitting lid combine olive oil, vinegar, sugar, Dijon mustard, oregano and pepper. Shake well.
Tear the lettuce and place on individual salad plates.
Add the tomato pieces, walnuts, and blue cheese.
Garnish with orange sections and egg quarters; drizzle with raspberry vinaigrette. Finish with a sprinkle of fresh cracked black pepper.