Derf2440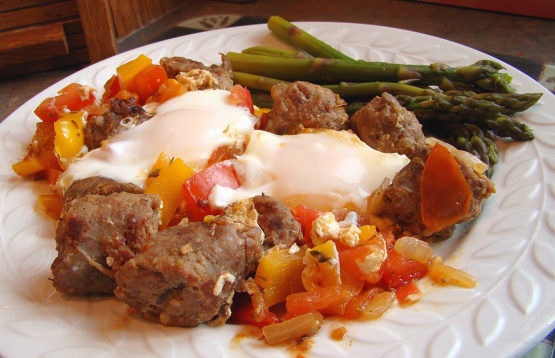 A long time ago I had a recipe from a Basque cookbook for really tasty eggs poached in a simple stew of tomatoes, peppers, and onions. I've since lost that recipe, but this is pretty close to the flavors (though I won't claim it as authentic Basque cooking!) This is really quick to prepare, especially if you dice your veggies as you're cooking instead of doing th prep work all up front (for example, while the sausage sautes, dice the onion, after the onion goes in, mince the garlic, once the garlic is in, dice the peppers, etc.) This can be made vegetarian/vegan by substituting 1 tsp. oil for the sausage.

My husband and I loved this dish. I made the vegetarian option using cooking spray. We did not miss the sausage. I also added chopped zucchini. It went very nicely with the tomatoes and seasoning. Making the wells for the eggs worked great. We'll definitely make this again!
In a large nonstick saucepan (or skillet with reasonably high sides), saute diced sausage over medium flame till nicely browned, about 4 minutes.
Add onion and garlic and stir till well mixed. Cook till onion is soft and garlic is fragrant, about 2 minutes. Add bell peppers and cook a minute or two, till slightly soft. Add diced tomatoes, thyme, red pepper, and salt (if using), cover, and cook 4 minutes, till juicy.
If using beaten eggs, stir gently throghout veggie mixture; cover. Cook 4 minutes, till set. (This produces more of a fritatta feel--good for folks who don't like runny egg yolks).
If using whole eggs, crack each egg and gently slide it into the veggie stew, trying to keep the eggs from touching each other (it may help to make a well for each egg with the back of a spoon). Cover and cook 3 minutes, till whites are set. Ladle each egg and some veggies into a serving bowl. Serve with crusty warm bread.