Basque Chorizo and Lentil Soup
Derf2440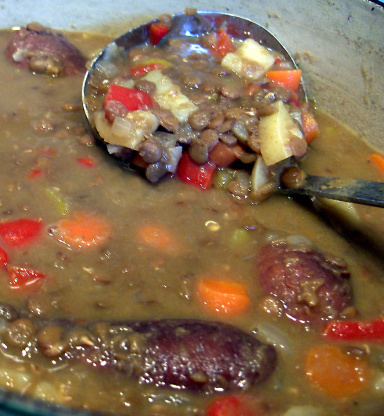 I found this web on the net recently (I was on a Basque kick). I have not tried it out yet, but I am sucker for anything with lentils.
Place the lentils in a large soup pot.
Add enough cold water to cover them by 3 inches.
Bring the lentils and water to a boil over medium-high heat, reduce the heat to low, and add the whole sausages and 2 tablespoons of the olive oil.
Cook the lentils for about 45 minutes.
Add the potatoes, carrots, onions and green and red peppers, and cook for about 20 minutes longer, until the vegetables are fork-tender.
Cut each chorizo in half, and serve 1 piece to a bowl.
Season to taste with salt, and serve.