JustJanS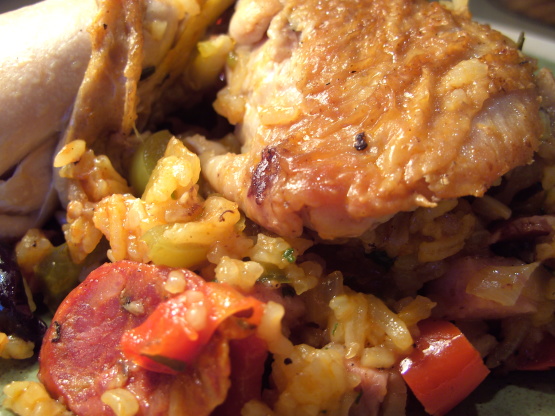 This was my dinner tonight and i really loved the taste of the chicken and the rice. It is kind of a paella casserole

I can't begin to tell you how good this was Swiss Miss. I made it for our dinner tonight with two chicken legs which I cut into thigh and drumstick. I made the full recipe other than that as I plan to take the leftover rice base to work tomorrow. The only changes I made to your recipe were to sub half the chicken stock with wine and add a pinch of saffron along with the chorizo etc. I can't believe this fantastic recipe hasn't been made before in 4 years!
Mix flour, salt and pepper in a freezer bag, add chicken, close bag and shake.
Heat oil in stewpot or big skillet, stir-fry chicken for about 15 minutes on both sides. Remove from pan and put it on a plate.
Add red and green pepper as well as onion and steam the veggies for about 3 minutes. Add garlic, chorizo and tomato puree and stew for another 3 minutes. Add the rice until it is
Stir in chicken broth, chillies, thyme, salt and pepper and bring it to broil. Cover the stewpot ant let it simmer for about 30 minutes.
Add ham, olives and the parsley, let it simmer another 5 minutes.