Basque Beans (Including Crock Pot Version)
NELady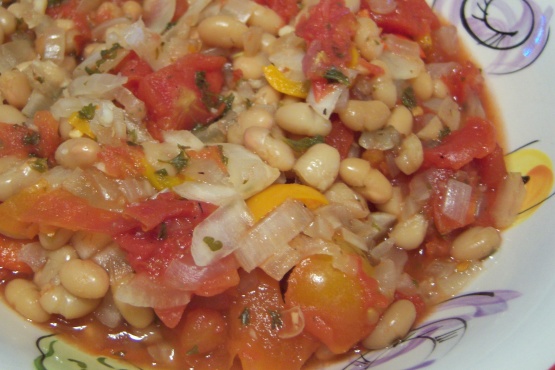 These are really good 'baked beans'. Especially for those who don't like their beans sweet.

Top Review by chia
i wish i could rate this higher, but this recipe didn't work for us. i made it in the crockpot as suggested after preparing the beans, sliced 3 onions and added the ingredients, cooked this on low for 10 hrs. the onions would have been better chopped, they overwhelmed the dish and the flavor was, in general, bland. some chilis or other spices would have added missing flavor.
Soak beans overnight.
Cover beans with cold water and cook until nearly tender (about 1 ½ hours, or 30 minutes in a pressure cooker).
Drain.
(this can be done a day ahead) In large casserole, heat oil and cook onion until soft; stir in garlic, then tomatoes, parsley, beans, red pepper flakes, oregano and 1 cup water.
Simmer, covered, over medium-low heat, or uncovered in 340°F oven for 2-3 hours, until beans are tender and most of liquid is absorbed.
Stir in green pepper and cook, uncovered, 20 minutes longer.
Season to taste.
For crock pot: Prepare beans up to step 2.
Add all remaining ingredients, including beans, to your crock pot.
Cook on low for 10-12 hours.