Basmati Rice With Turmeric and Mushrooms
Stacky5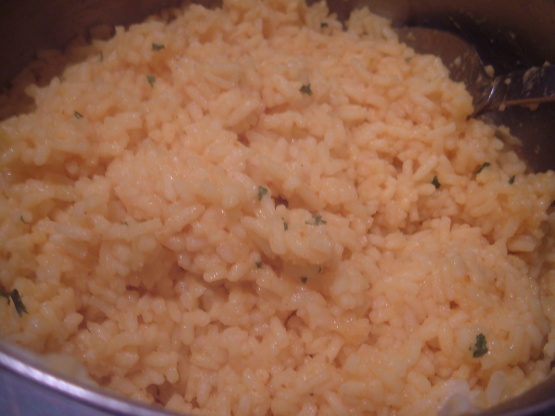 This may also be baked in the oven instead of the stove top --- although some people would say that soaking the rice is not needed it is just something I have done for years with basmati rice, but by all means proceed with the recipe without presoaking, just make certain to wash the rice very well in cold water --- fresh sauteed mushrooms may be used in place of canned :)

Top Review by DebMK
This is really good. My husband really enjoys it. I substituted 1 tsp garlic powder for the fresh garlic and left out the salt and pepper. Used butter and canned mushrooms. Didn't soak or rinse the rice as didn't notice that part until having it all together. Had skimmed the recipe and was going from memory instead of printing it out. LOL Still turned out great. Have made it twice now and will definitely be making it again. Very easy dish to make.
1⁄4 cup butter (can use less if desired) or 1⁄4 cup oil (can use less if desired)

1

small onion, chopped

1

tablespoon minced fresh garlic (or to taste)
1⁄2 teaspoon turmeric (scant)
1 1⁄2 cups basmati rice (well rinsed, you can also use the same amount of jasmine rice in place or the basmati)
2 1⁄4 cups chicken broth
1 1⁄2 cups canned mushroom slices, drained (I just use one can for this)
pepper (optional)
Rinse the rice under cold water very well.
Place the rice in a large bowl covered with cold water and let it soak for 30 minutes (changing the water after 15 minutes) before proceeding with the recipe.
Melt butter in a heavy saucepan over medium heat.
Add in onion, garlic and tumeric powder; saute until JUST beginning to brown (about 2 minutes).
Add in rice, broth, mushrooms, salt and pepper (if using); bring to a boil.
Reduce heat to low, cover with a tight fitting lid and simmer until the rice is tender (about 18-20 minutes).
**NOTE** this rice can also be cooked, covered with a tight-fitting oven proof lid in the oven at 350 degrees for about 30-35 minutes, or until rice is desired tenderness.