Basmati Rice With Potato Crust
awalde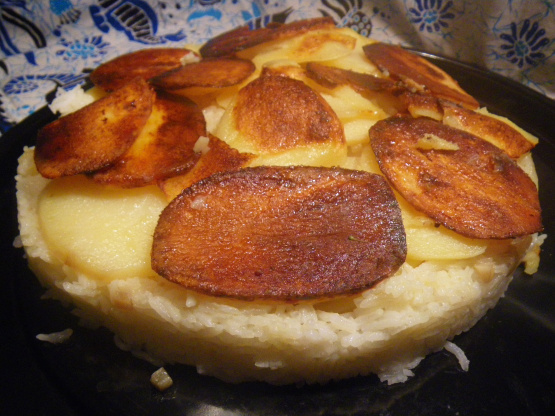 Top Review by awalde
Dear Ummi, thanks a lot for your recipe. Your recipes are always top!
I followed the instruction and the rice came out perfect. It was not so easy to remove the potatoes from the top, but finally they came out perfect: brown and not burned!
Really very yammi a perfect side dish that can be combinated with a lot of dishes. I served this with tandoori chicken and rasted broccoli.
1⁄3 cup plus 2 tablespoons butter
3⁄4 cup white basmati rice

4

cups water (may use some chicken stock if wished along with water)
sea salt, to taste

2

medium potatoes, peeled and thinly sliced (I like to use yellow fleshed potatoes)

1

garlic clove, minced
Rinse then soak rice for 10 minutes to 30 depending on quality.
Melt 2 Tablespoons of butter in a saucepan over medium heat.
Stir in the drained soaked rice and cook for 1 minute.
Bring water and stock if using to a boil add sea salt to taste add rice, bring back to a boil and boil exactly 8 minutes, drain.
Melt 1/4 cup butter and toss in the sliced potatoes and sea salt to taste.
In a heavy-bottomed pot with a tight-fitting cover, and low rim, arrange the potato slices, overlapping in 2 layers covering the bottom of the pot (using all of the butter they were tossed in).
Sprinkle with the garlic.
Evenly spoon the half-cooked rice on top of the potatoes and garlic, and spoon the remaining melted butter over the rice.
Cover the pot and cook over medium low heat or to brown potatoes slightly, then turn heat down and cook for 40 minutes, or until the rice is tender.
Removing properly can come with practice but it helps to dip the pot in cold water for 30 seconds making sure not to get water in the pot! Then flip --.
Enjoy!