Basmati Rice, Chickpeas & Toasted Almonds
rpgaymer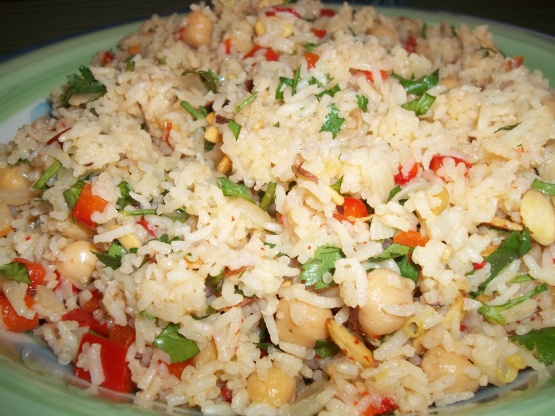 The age-old combination of rice and beans takes on a bit of an Indian flair. If you can't find basmati rice, substitute Texmati, jasmine, or any long-grain rice. From Berkeley Wellness.
We loved this Indian twist on beans and rice. I could not find a 19oz can of chickpeas, but the 15oz can I got seemed to be more than enough (I was serving it as a side anyway). The toasted almonds and cilantro add the perfect finish, and the dish tasted great alongside the curries I made. Thanks for sharing!
In a medium nonstick saucepan, heat the oil over medium heat. Add the onion and garlic and cook, stirring frequently, until the onion is soft, about 7 minutes.
Add the bell pepper and rice, stirring to coat. Stir in the water, lemon zest and salt; bring to a boil. Reduce to a simmer, cover and cook until the rice is tender, about 15 minutes.
Stir in the chickpeas and cook until heated through, about 3 minutes. Stir in the cilantro and toasted almonds at serving time.