awalde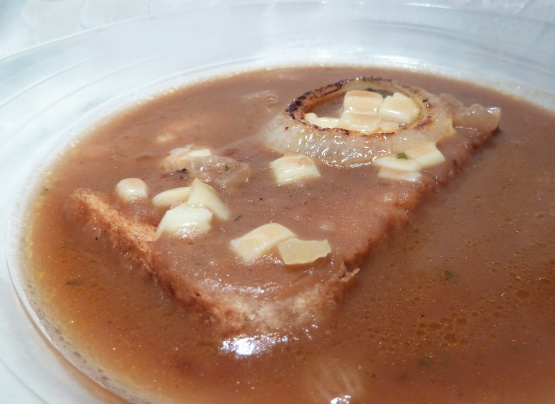 Soups are popular in Switzerland. And the secret to the balance of flavors of this traditional Swiss soup is gently toasting the flour first. I first found this recipe on the recipeland website, but I've also seen it on the Allrecipes site (submitted by Corwinn Darkholme), but I didn't check to see if it's an exact duplicate.

Top Review by awalde
Basel is my town! I love my town and your Mehlsuppa!
This came out perfect and tasty. It's very important to cook the soup enogh time to combine well the flavors and make the soup thicker.
I used all the ingredients as described. Gruyere cheese is the cheese of choice and this is one of my favorites cheeses.
Next time I would only make one change: prepare some more soup!
Thanks a lot for this recipe!
In a heavy saucepan over medium heat, heat the flour gently until it begins to turn pale golden brown, stirring constantly. Remove from heat.
In another pan, saute onion slices in butter. When transparent, blend them into the flour. Gradually add beef stock, wine, salt and pepper to taste. Cook gently, stirring frequently, for about 30 minutes.
Put a slice of bread in each of four soup bowls, topping each bread slice with a generous amount of cheese. Using a ladle, pour soup into each bowl, and serve at once.