Basil Vinaigrette Dressing
jrusk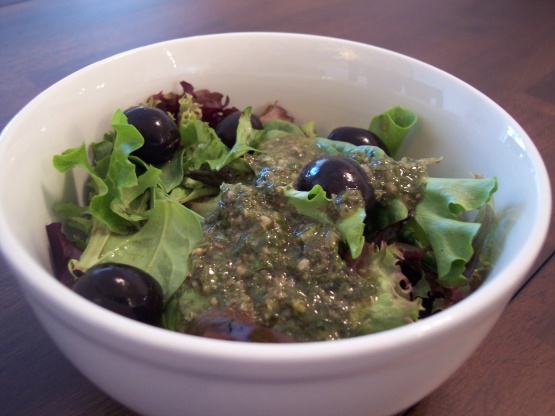 Imagine this served over a salad of tomato, sweet onion, avocado, radicchio and romaine!

This is very good. I made it olive oil and dried basil. Mine has a pronounced garlic taste (a good thing) but I may have used a little more garlic than called for (garlic cloves will vary in size). I made this a day ahead to let the flavors marry.

This is a keeper and I'll make it again.

There are a number of reviewers who said this was sweet. Taking a cue from them, I dissolved 2 teaspoons of sugar in the vinegar and then tasted it. Then I added another 1/2 teaspoon of sugar. That was perfect for my taste and the vinegar I used. I suggest this method instead of guessing and just putting the sugar in with the rest of the ingredients and hoping for the best. The sugar belongs in the vinegar in the first place to take the edge off it. And the amount of sugar required really depends on the acidity of the vinegar being used. That way you will always get it right and won't waste good ingredients.
In a blender or food processor, combine all ingredients except the oil, and blend until smooth.
With the machine running, add the oil in a slow steady stream until incorporated.