Basil Pesto - "Lighter Version"
ChefLee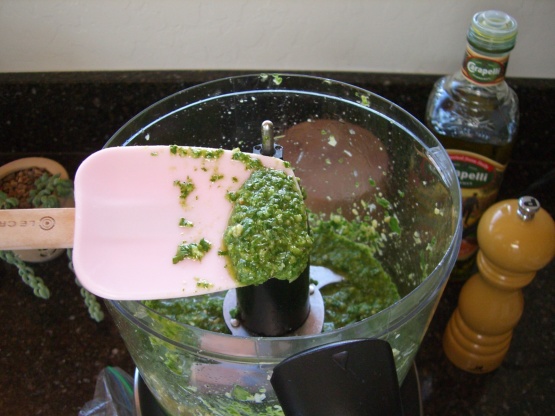 A lighter version of the clasic pesto. This recipe is great for all the beautiful, fresh basil available in the summer

Great pesto. I have a bit of a basil glut at present and DH is a bit sick of basil. However although he groaned and protested wildly when he saw the basil sitting on the bench waiting to go into the blender, there were no complaints when I served it up with a ricotta gnocchi recipe from Zaar. My toddler loved this too and ate all her dinner with absolutely no protests :-D. Very easy to make.
Add nuts and garlic to blender and pulse until minced.
Add olive oil, pulse a few time more.
Add basil leaves, cheese, salt and blend until smooth.
Scrape sides of blender as you go to make sure everthing mixes well.
Serve with your favorite pasta.