Sageca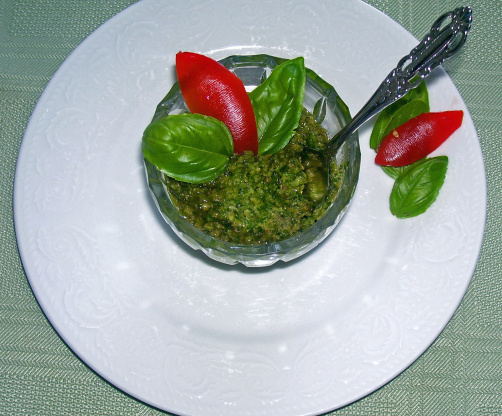 This is my Pesto recipe that I have been making for years with basil from my herb garden; now it it from my containers on my patio.I used in many recipes always ready for me in the freezer.

This was excellent! A 5 star for sure. The salt was a perfect addition. I used 2 cups of basil, and packed it firmly not super tight. It worked perfectly. I used raw hazelnuts, but otherwise followed the recipe exactly. I wouldn't change a thing. Coworkers wiped out a full single batch in about 5 minutes. Good thing I made a double batch. Robbins EVOO from Solvang, CA was the perfect oil. It was deliciously fruity and fresh. Thanks for posting this.
Using your processor pulse the basil, garlic and pine nuts.
Slowly add the olive oil in a constant stream while the food processor is on.
Stop to scrape down the sides of the food processor with a rubber spatula.
Add the grated Parmeasn cheese and lemon juice; pulse again until blended.
Add salt and freshly ground black pepper.
Store pesto in a jar or airtight container in the refrigerator for about a week, or in the freezer for about six months.
Keep it looking fresh and green by covering the top with a thin layer of olive oil or with a sheet of plastic wrap directly on its surface; this will keep it from oxidizing and turning brown. If your pesto darkens in color, it will still taste good.
I freeze it by dropping Tablespoons of it on a parchment paper, freezing it and storing in a zip lock bag in the freezer.