Kim127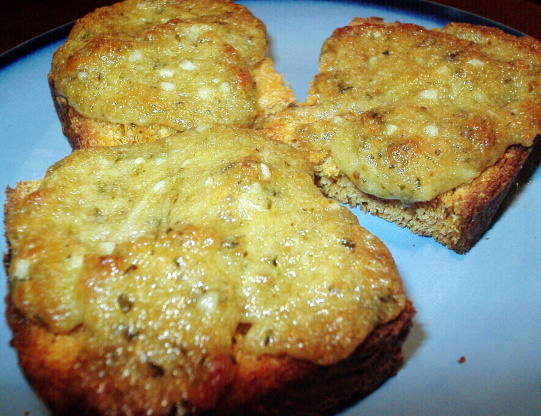 This is a great recipe to make with prepared basil pesto, makes a great latenight snack or serve it with a pasta dinner. To save some time you can broil/toast the bread slices in advance. If you prefer a lot of topping on the rounds just double the pesto mixture.

These were good, but I would change a couple things. First, make sure to taste your pesto mixture before adding any salt. Our pesto was already salty enough and I wouldn't have added any salt had I tasted already. Second, I would mix in some shredded mozzarella or other cheese to the pesto mixture to make it a little more bubbly and cheesy. I'll make again with these changes. Thanks!
Set oven to broil.
Arrange the bread rounds/slices in a single layer on a cookie or baking sheet.
Broil for about 6-7 minutes or until lightly toasted (watch closely that they do not burn).
Remove then flip the slices so that the toasted side is on the bottom.
Set oven to 350 degrees.
In a small bowl mix together mayonnaise, pesto, garlic, Parmesan cheese and salt to taste.
Divide and spread the mixture onto the untoasted tops of each bread slice, then sprinkle lightly with black pepper if desired.
Bake for about 6-8 minutes, just until they bubble and turn golden.
Let cool slightly before serving.