Boomette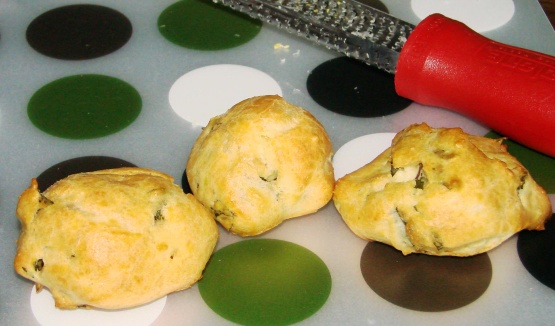 This is from the Sept/Oct 09 Simple & Delicious magazine. I made these with minor modification, and they are really tasty and easy to make. My kids gobbled these up until I made them stop!
In a large saucepan, bring water, butter, and salt to a boil. Add flour all at once and stir until it forms a smooth ball. Remove from heat and let stand for about 5 minutes.
Add eggs, one at a time, beating well after each addition. Continue beating until mixture is smooth and shiny (takes some arm power). Stir in basil and cheese.
Drop by rounded tablespoons 1 inch apart onto greased baking sheets. Bake at 400' for 18-20 minutes or until golden brown. (I made mine too big and it took about 24 minutes total) Remove to wire racks. Serve warm.