JustJanS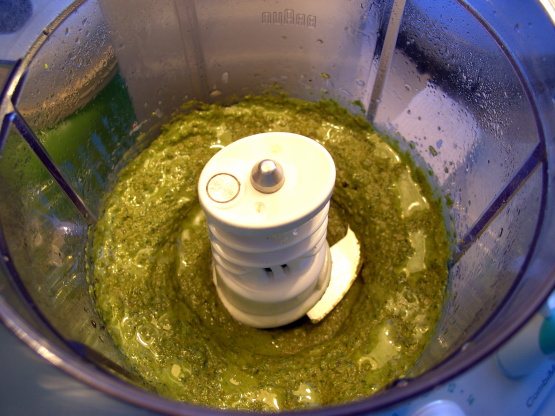 Create on crackers, baquettes or mixed in with pasta and chopped tomatos. Freeze leftovers in an ice cube tray so you can use as a mix-in any time.

I chose this recipe because I happened to have 1/3 cup of pine nuts and this recipe has never been reviewed. I toasted my pine nuts and only used half the 1/3 cup of oil I had measured out. This gave me a spreadable consistency which will be perfect to freeze, then add in a little more oil when I use the pesto. The flavour is wonderful and it was a great way to use up some of my basil. Thanks for posting!
In a food processor, pulse the Basil, Pinenuts & Garlic.
Add Olive Oil in a stream til mixed.
Add Cheese, salt & pepper then pulse till mixed.